RETURN TO SPEAKING TOPICS MENU
Women's Ministry Topics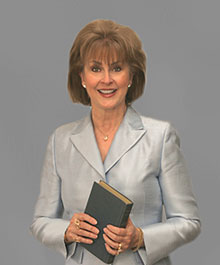 FROM MISCELLANEOUS TO MISS AMERICA
This humorous story of a small town girl who makes good is a consistent audience favorite. Shirley was a quiet, introverted young girl who suddenly awakened to the fact that she could BE SOMEBODY!! This prevalent philosophy of life that is so popular in today's society sounds so right, but does not always equate happiness and success. Shirley takes her own life journey of being a wife, mother, and professional woman and skids to a jolting realization! What makes most of us happy is the ability to make a lasting impression on generations to come. This presentation is always well received by old and young and is especially appropriate as a luncheon keynote or a spouse event.
BACK TO THE BASICS IS MORE THAN JUST BOILING WATER
Being a woman in this new millennium is not a simple task for today's busy wife, mother, and career woman. In this presentation, which is directed for women who are in the throngs of managing a home and family, the familiar passage of Titus 2:3-5 is examined phrase by phrase to help refocus the guidelines by which Christian women are to live. The accelerated pace of life, demands on the modern woman, and the Christian ethics by which we all strive to adhere, sometimes seem impossible. Shirley takes the everyday struggles that we all face and helps to uplift, challenge, and realign our priorities in life.
HOW TO GET YOUR HUSBAND TO TREAT YOU LIKE A QUEEN
This presentation examines the life and accomplishments of Queen Esther. We all want to be treated special and enjoy feeling cherished. But just how do we accomplish such a feat? Shirley will look at what one woman did to attain such honor. Do our actions and words honor our husbands, or do we attack his position in our lives with our tongue and deeds? Learn to esteem the man in your life for who he is, and enjoy being treated like a queen!
WALKING THE STRAIGHT AND NARROW IN A BRIGHT RED DRESS
For mothers and daughters, teens, or women, we all need to be aware that people are looking at us as an example of a Christian. Do we meet the criteria with flag-waving success, or do we need to be more cognizant of our appearance, words, actions, and reactions. Shirley explores the areas of dress, speech, countenance, and reputation in seeing how you might improve your walk on the straight and narrow path.  This area of review is especially appropriate for women's groups, mother-daughter banquets, or teen-age girl meetings.
THE LASTING INFLUENCE OF A GODLY MOTHER
Shirley's mother was not only her mentor, best friend, advisor, confidant, she was also the example of her life. Frankie Cothran lived with Shirley and her family the last five months of her life as she battled with cancer. When she gasped her last breath and closed her eyes for the final time, Shirley realized that her mother had not felt the sting of death, but was triumphantly standing before the Lord Jesus Christ. Since that time, Shirley realized that her mother bequeathed her many treasures by her words, examples, humor, warnings, and teachings.  What Frankie Cothran left her daughter was the hope that what Godly mothers do today will have a lasting effect on their children.
JOY IS MORE THAN SKIN DEEP
In a rushed world that demands the very best of us ALL THE TIME, a focus on the important priorities in life can sometimes become blurred. From a perspective of humor and numerous examples, Shirley offers ten ways that we can quickly lose the joy in our lives and be miserable. But with a deliberate effort of concentrating on blessings rather than disillusionment, we come to understand that joyfulness is a choice. The really happy person is the one who can enjoy the scenery even when one has to take a detour.
AND THEY SHALL RISE UP AND CALL ME BLESSED!!!
Mothers of young children or growing teenagers will enjoy this presentation of survival techniques in the venture of parenting. How do mothers earn the eternal compliment of having their children bless them rather than blast them? What kind of behavior sets forth a model worthy of such a compliment? Various passages in the Bible will help guide us in finding answers to these questions. Using biblical truths, real life examples, humor, and tried and true formulas, the quest to successful parenting will be explored.
JUST WHAT KIND OF CHARACTER ARE YOU ANYWAY???
This presentation will give the listener a clear understanding of the four basic personality styles of people. Shirley will communicate why one personality is focused on control, another on recognition, the other on accuracy, and still another on stability. This oration allows one to spot the strengths and weaknesses of each nature, while learning to curb the flaws and encouraging the positives of each personality. The listener will develop an ability to discern the dominant natures of one's self and others and develop a greater sensitivity to others. An important tool in interactive relationships will be cultivated.
I REACHED FOR A STAR AND CAUGHT A LIGHTENING BUG INSTEAD!
Trying to put life in proper perspective is not always a pleasant or easy task. But it is a necessary investment. While the world screams for us to reach for the stars and be fulfilled by applause and accolades, how we really benefit is by examining where our real treasures lay. Using the pomp and circumstance of Miss America, Shirley can relate many instances where the world entices her to make millions and be somebody, while her spirit urges her to follow her heart. This presentation uses many humorous examples, and is excellent for examining the struggle between going along with the crowd and doing what is right for us. It is a convicting look at prioritizing our lives.
BIG SMILES! BIG IDEAS! BLANK CHECKS!
Putting our lives in proper perspective is not always a pleasant or easy task. But it is a necessary investment of time if we want to enjoy life as it was intended for us to. While the world screams for us to reach for the stars and be fulfilled by applause and accolades, what we really need to examine is where our treasures really lay. Using the pomp and circumstance of Miss America, Shirley can relate how busy people in our busy world struggle to grab all the brass rings! Describing the successful person will include some very interesting, challenging, humorous, and flexible twists from a personal perspective.