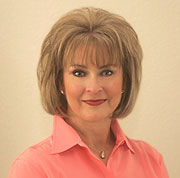 Thank you for visiting my website. It is my delight to have you get to know me a little better and become more familiar with my ministry. For over 40 years, I have spoken at scores of Christian and secular functions. Even after all this time, I find every event to be just as thrilling as the first time I stepped on stage!   
As a former Miss America, I have found that God has given me a wonderful platform to reach all types of audiences.....all ages and circumstances. And, as my life has matured, my interests, experiences, and heart's passion has escalated more and more toward encouraging, challenging, and edifying my listeners.
I must admit that I enjoy a very blessed life. My husband and I have been married since 1976, have four grown children, and three grandchildren. Since earning my Ph.D. in 1979, I have been fortunate to travel across America and even around the world speaking at Christian retreats, conferences, schools, colleges, seminars, keynoting dinners, and special events of every description. Just like every other person, I, too, have been faced with heartaches and trials in my life that has tested my faith and walk with Christ. In my presentations, I try to insert humor while never taking the focus off Jesus, Who provides the answers to our problems, questions, and dilemmas.
If you are hosting a special event, I would be privileged to speak with you about my sharing with your group. Explore my website, and if I can be of assistance to you, I'm just a click away!
Blessings to you,
Shirley Cothran Barret, Ph.D.